SBG3600-N Series
Small Business Security Gateway Multi WAN ed LTE
Supporta l'interfaccia WLAN multipla per le varie opzioni di connettività
LTE integrato WAN mobile come backup per le linee fisse per garantire elevata disponibilità
Supporta l'aggregazione VDSL per ampliare la larghezza di banda per le linee fisse
Si basa su tecnologia 802.11n per prestazioni estreme
VPN, Firewall e URL/filtraggio key word garantiscono una solida sicurezza dei dati
Compatibilità con chiavette USB 3G e multi-WAN load-balancing, supporto failover e fall back
Router professionale, Firewall, Wireless Controller ed Hotspot in un unico prodotto
La serie di Router professionali <Small Business Gateway> (SBG) è la soluzione definitiva per le piccole e medie aziende che vogliono un prodotto multifunzione, capace di garantire connessioni internet efficienti ed affidabili, di gestire la sicurezza aziendale e le connessioni VPN verso le filiali o gli home-worker, oltre che a fungere da Hotspot per la rete wireless. I modelli SBG3500/3600 integrano anche un controller per la gestione dell'impianto wireless, riducendo i costi di gestione e migliorando l'efficienza generale della rete.
Connettività: Multi-WAN ed LTE con load balancing e failover
Il Gateway ZyXEL SBG 3600 integra per la linea principale un modem dual-mode che supporta entrambe le tecnologie ADSL fino a 20/1 Mbps e VDSL fino a 100/45 Mbps in modo automatico, anche con funzione bonding se fornita dal provider. La seconda connessione WAN inclusa nel Gateway ha una doppia interfaccia Gigabit Ethernet RJ45 e Fibra Ottica tramite slot SFP, con funzionalità di Load Balancing e Failover con la linea principale. Infine, per garantire la massima flessibilità e ridondanza, l'SBG 3600 integra anche uno Slot per SIM Card LTE come terza opzione di connettività, ed una porta per chiavetta USB 3G dei principali operatori, con funzione di backup.
Firewall Professionale e VPN
ZYXEL SBG 3600 integra un Firewall professionale con eccellenti prestazioni, ed un throughput di 800Mbps. che offre la protezione di Stateful Packet Filtering (SPI), Denial of Service (DoS) e funzionalità DDoS per la prima linea di difesa anti hackeraggio, intrusioni ed altre pericolose minacce. L'area DMZ configurabile previene attacchi esterni ai dati sensibili. Il Firewall dell'SBG 3600 include le funzionalità di PORT FORWARDING - PORT TRANSLATION - ADDRESS MAPPING, e può inoltre gestire fino a 20 tunnel VPN IPSec/L2TP/PPTP concorrenti (Max.35 configurabili) con throughput di 40Mbps, grazie alla potente piattaforma hardware di cui si avvale.
Wireless Hotspot
Il Gateway ZyXEL SBG 3600 è dotato di Access Point integrato a standard 802.11n con velocità di trasferimento dati fino a 300 Mbps. Oltre a fornire copertura wireless di base, il Gateway può anche essere utilizzato come Hotspot in ambienti Hospitality, grazie alla funzione di Captive Portal, alla gestione di 4 SSID e 16 VLAN per la creazione delle reti aziendali e ospiti, ed al supporto della tecnologia Layer 2 Isolation che mette in sicurezza il traffico dati di tutti gli utenti collegati.
Wireless Controller
Facendo propri i principi fondamentali del BYOD, i Security Business Gateway 3600 aiutano le aziende SMB a soddisfare la fame di wireless generata dall'esplosione degli apparti mobile, quali smartphone e tablet, integrando un potente Controller Wireless che aiuta a installare, aggiornare e manutenere la rete Wi-Fi, gestendo fino a 10 Access Point.
Model
SBG3600-N
Hardware Specifications
DSL
VDSL2/ADSL2+ 17a bonding, 2 x RJ-11 (DSL)
Ethernet WAN
RJ-45/SFP dual personality
LAN port
4
DMZ
V (LAN selectable)
USB port
1
3G/4G
Embedded LTE module
External 3G USB dongle supported
LTE Specifications
Standard compliance
3GPP release 8
Operating frequency
LTE Band 3/7/8/20
Data rate
100 Mbps DL within 20 MHz; 50 Mbps UL within 20 MHz
RF output power
23 dBm
No. of antenna
2 antennas
Antenna gain
3 dBi
System Capacity & Performance
SPI firewall throughput (Mbps)*
800 Mbps
VPN throughput (Mbps)**
40 Mbps
Max. concurrent IPsec
20
VLAN interface
16
WLAN Management
AP controller
Yes
Managed AP number (default/max.)
2/10
Wireless Specifications
Standard compliance
802.11 b/g/n
Wireless frequency
2.4 GHz
Radio
1
SSID number
4
Maximum transmit power
EU (ETSI) 2.4 GHz
20 dBm, 2 antennas
No. of antenna
2.4 GHz: 2T2R MIMO (Detachable, SMA-R)
Antenna gain
3 dBi
Data rate
• 802.11 b/g: 1, 2, 5.5, 6, 9, 11, 12, 18, 24, 36, 48 and 54 Mbps
• 802.11n: up to 300 Mbps in MCS15 (40 MHz; GI = 400 ns)
Receive sensitivity (2.4 GHz)
• 11 Mbps ≤ -76 dBm; 54 Mbps ≤ -65 dBm
• HT20 ≤ -64 dBm; HT40 ≤ -61 dBm
Key Software Features
WAN load balancing/failover
Yes
Virtual Private Network (VPN)
Yes (IPSec, PPTP/L2TP over IPSec)
VPN failover/fallback
Yes
Captive portal
Yes
Access control list
Yes
SNMP MIB II
Yes
TR-069
Yes
Power Requirements
Power input
12 VDC, 2 A
Max. power consumption (watt)
15.3
Physical Specifications
Rack mountable
Yes
Included accessories
• Ethernet cable • DSL cable • Power adapter • Rack mounting kit
Item
Dimensions (WxDxH)(mm/in.)
242 x 170 x 36/9.53 x 6.69 x 1.42
Weight (kg/lb.)
1.69/3.73
Packing
Dimensions (WxDxH)(mm/in.)
343 x 209 x 75/13.50 x 8.23 x 2.95
Weight (kg/lb.)
2.43/5.36
Environmental Specifications
Operating
Temperature
0°C to 40°C/32°F to 104°F
Humidity
10% to 95% (non-condensing)
Storage
Temperature
-30°C to 70°C/-22°F to 158°F
Humidity
10% to 95% (non-condensing)
Others
MTBF (hr)
300,000
*SPI firewall throughput is based on RFC 2544 (1,518-byte UDP packets)
**VPN throughput is based on RFC 2544 (1,424-byte UDP packets)
Please check the list below or go to the ZyXEL Download Library to see if your 3G/4G dongle is supported.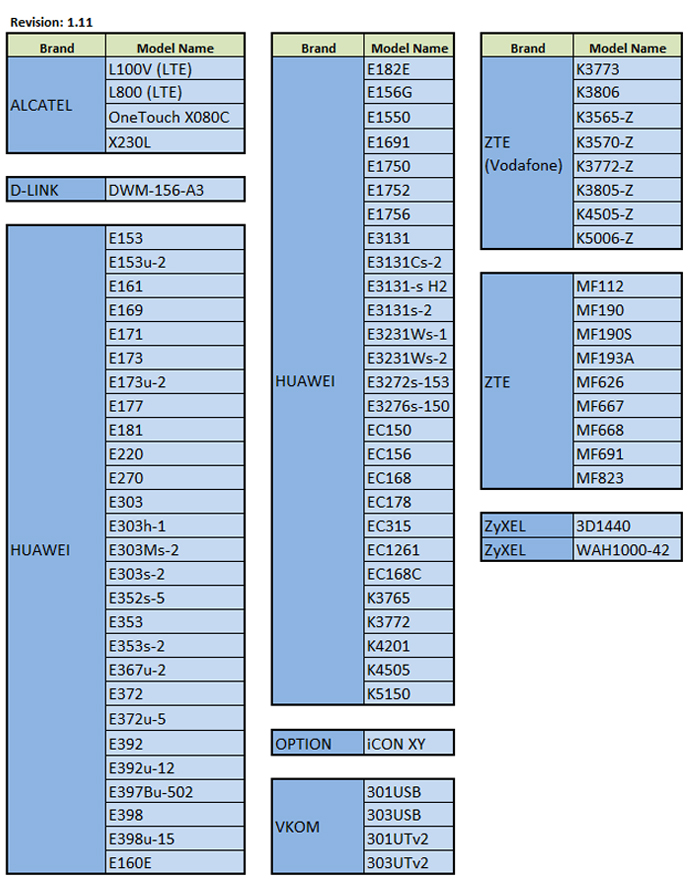 Note: If you can't find your dongle from the list, please contact ZyXEL's Technical Support Service for help. Your email, brand and model name of dongles, and relative information of the dongle may be needed.
Series
NWA3000-N Series
NWA5000 Series
NWA5120 Series
Unified Pro
Access Point
Managed
Access Point
Unified
Access Point
Models
NWA3160-N
NWA3560-N
NWA3550-N
NWA5160N
NWA5560-N
NWA5550-N
NWA5121-NI
NWA5121-N
NWA5123-NI
NWA5301-NJ
Functions
Central management
Yes
Yes
Yes
Auto provisioning
Yes
Yes
Yes
Data forwarding
Local bridge
Local bridge
Local bridge
Software Features
High Availability WAN
Fixed-line WAN interface options: VDSL, Ethernet/SFP
Mobile WAN interface options: Embedded LTE module, 3G dongle supported
User configurable multi-WAN load balancing with one WAN for failover/fallback
LTE
Up to 200 active users in a cell (5 MHz)
Less than 5 ms user-plane latency
Enhanced support for end-to-end QoS
Supports NAT router mode
DHCP client/server, forwarding
DNS proxy, DDNS
Linking budget control
Syslog/CLI
Firewall with SPI
Internet Control Message Protocol (ICMP)
Pass through traffic type:

Multicast
PPTP/L2TP/IPSec VPN
MPPE
VDSL Compliance
G.993.1 VDSL, G.993.2 VDSL2 Annex A/B compliant, band plan 997, 998
G.994.1 (G.hs) Handshake, G.997.1
Support VDSL profiles up to 17a
Packet Transfer Mode (PTM) 17a bonding
Rate adaption
Seamless Rate Adaption (SRA)
INP: Up to 16 symbols
G.INP, G.Vector
PhyR configurable
ADSL Compliance
G.992.1 (G.dmt), G.992.2 (G.lite) Annex A/B compliant
G.992.3 (ADSL2), G.992.5 (ADSL2+) Annex A/B compliant
Reach-Extended ADSL (RE ADSL
Seamless Rate Adaptation (SRA)
PPP over ATM AAL5 (RFC2364)
Support VC-based and LLC-based multiplexing
ATM traffic shaping (CBR, VBR-rt/nrt, UBR)
PhyR configurable Ethernet/SFP WAN
Ethernet WAN and SFP dual personality
Networking
N-way, automatic speed negotiation supported
Auto-sensing, auto-detection MDI/MDIX Bridge/Router
Dynamic learning for up to 2014 MAC address
PPPoE, PPPoA, IPoE, IPoA (RFC 1483)
DHCP client/server/relay
DHCP option 43/60/61/66/121/125/138/150
DHCP client table
DNS proxy, DDNS
RIP I/RIP II supported
Adjustable MTU size
QoS classification route, queuing and scheduling
Interface grouping
IPv6 support
VPN
Simple wizard support (Express wizard)
Concurrent 20 IPSec VPN tunnels
IPSec, PPTP and L2TP over IPSec VPN
IPSec HW engine
Algorithm: AES (128/192/256)/3DES/DES
Authentication: SHA-1/MD5
Auto reconnect VPN
VPN failover/fallback
Firewall & Security
Full cone NAT/Symmetric NAT/Restrict Cone NAT, NAT ALGs
20,000 NAT sessions supported
Configurable DMZ
PPTP/IPSec/L2TP pass through
PAP/CHAP/MS-CHAP v1 and v2
Stateful packet inspection
DoS/DDoS protection
URL/key word filtering
Access control: up to 256 ACL rules
Directional ACL rule support
USB
FTP file sharing
Supported file system: FAT16/32, EXT2/3
Support mobile broadband dongle
Support WWAN package update
3G budget control
Wi-Fi Specifications
IEEE 802.11n compliance, backward compatible with 802.11 b/g
Dynamic auto channel selection
WPS on/off configuration in Web GUI
Multiple number of SSID: Up to 4
Per-SSID VLAN binding
WEP data encryption 64/128 bit
WPA/WPA-PSK with TKIP & AES security type
WPA2/WPA2-PSK with TKIP & AES security type
IEEE 802.1x (EAP-MD5, TLS and TTLS)
32 MAC filter
Client connection: A maximum of 32 clients simultaneously connect to the AP
Adjustable WLAN output power (via CLI, XML)
Captive portal
WLAN Management
ZyXEL AP Controller (APC) Lite compliant
Client RSSI threshold to prevent sticky clients
Wireless Layer 2 isolation
RADIUS authentication
Wi-Fi Multimedia (WMM) wireless QoS
CAPWAP discovery protocol
ZyXEL Wireless Optimizer (ZWO) AP planning
System Management
Two-tier log in
Dual image firmware protection
Text based configuration (XML based)
Support TR-069, TR-098, TR-111, SNMP v1, and v2c
Syslog
User management (user data base/profile)
Certification
CE Certified
---
Tipo video: Presentazione